best SPORT predictions

at the best price

bestSPORTpredictions makes your life easier as we focus on every aspect of the events we preview in this section. The previews and betting predictions you find here are all based on the mentioned aspects important for betting.

Our service of sport statistics and sport predictions provides a unique opportunity to take advantage of global analysis of the upcoming matches. This will help you to make a profitable bet.
Other SPORTS
Volleyball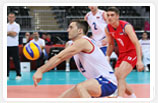 Volleyball is a strategy game, played at team. It is second only to football in worldwide popularity. Approximately 46 million Americans play the game and an estimated 800 million play all over the world. In Volleyball there are strict rules - The team may touch the ball up to 3 times but individual players may not touch the ball twice consecutively. The game is enjoyable and fun when not playing professionally.